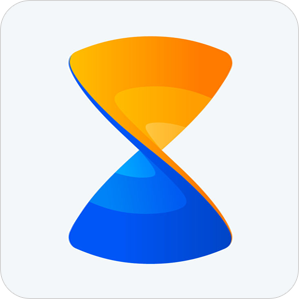 Xender is a file sharing application which allows sharing photos, videos, documents etc. across two devices. Xender is available for all for operating systems i.e, Android, iOS, Windows Phone and Tizen. Data sharing was never fun and fast until Xender was introduced. It uses Wi-Fi to transfer data across devices. Most of the application share files between devices connected to the same Wi-Fi hotspot. Xender is one of the applications which doesn't need devices connected to the same hotspot devices. It creates its own personal hotspot for data transmission and It is full of features that's why it is placed on top of the category. Nowadays it is available in 22 different languages. The older version named flash transfer is available outside play store unofficially. But there is a huge difference in the smoothness of performance between the older version and the current version. Connect to PC and connect to the iPhone are some new feature added in the new version.
UI of Xender is also minimal and simple. On the first launch, you have to set your profile and you are ready to go. For file transfer, you have to create a group. To create a group, tap on Connect friend button on top of the app and then tap create a group. Now perform the same process on another device but this time click on the device you want to receive files from. Five devices can be connected at the same time for file transfer. Some cool features like slide to share, shake to share, buzz and kick a device are also introduced in the application which makes it more fun to use. More than 20 Mbps data transfer rate is observed which transfer large files in seconds.
Download Xender v4.9.12 for Android
Open this exact webpage on your phone.
Find the downloaded file using the file manager on your phone.
Install the app on your android smartphone.
Start Xender.
Advertisement

Advertisement