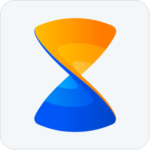 Xender is a file sharing app available for Android, iOS, and Windows devices. The app has a small size and lower requirements so can smoothly run on devices without having trouble in sending or receiving the file. For using Xender to share files users only need the application to be active on both the receiving and sending devices. File sharing with this app is better and smarter than the old techniques like Bluetooth. File sharing with Xender is completely offline and no data connection is needed. The file sharing is completely wireless and no hardware is needed to share from one device to another.  No features like NFC are required for Xender as it works completely on wifi feature of the device.
Xender is faster than other old methods of file sharing and allows transferring many files at a time. It is easy to use and has a very simple UI with all necessary options highlighted. This app has reliable file sharing and within no time a lot of files can be shared just by few taps. Transfer of files is always successful and no error while sending any type of file can be seen. Xender also allows sending files that are in unsupported format. Users can share their favorite apps, games, music, and movies with friends and family. All these features and this app itself is free of cost. Some other features of this app include the phone cloning that allows the user to make a copy of a device by transferring complete data from any device to another. It is useful for transferring data when upgrading a device without losing personal data.
Download Xender v4.5.6 for Android
Open a browser on your smartphone and visit this website.
Wait for the app to finish downloading.
Locate the downloaded apk file and install it on your device.
Run Xender.
Advertisement

Advertisement